TABLEWARE:
A FAMILY AFFAIR
With its cutting-edge expertise and its exceptional collections of high-end linen, Renaissance, established by designer and tableware expert Céline Perrin-Davy, has built up an extremely prestigious clientèle with a keen eye for detail, both in France and internationally.
Brought up surrounded by beautiful antique linen, Céline inherited her passion from her mother, an avid collector of tableware who enjoyed needle painting household linen.
After studying law and becoming a business lawyer, fate brought Céline back to the world of high-end linen when she took up the post of Export Director with a luxury brand.
She would spend the next ten years sending embroidered table and bed linen collections all over the world, all the while rekindling her passion.
When the company was sold off, Céline, encouraged by her husband who believed in her sense of creativity and in-depth knowledge of tableware, launched her own brand of high-end linen: Renaissance.
A FASCINATING TEAM AND EXQUISITE COLLECTIONS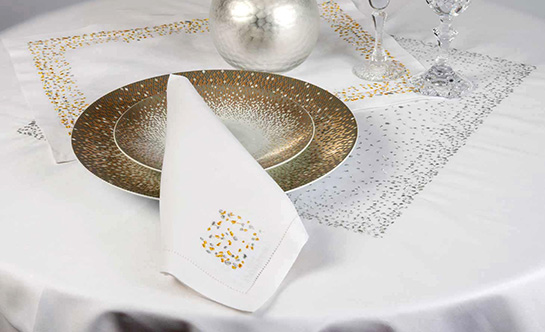 Surrounded by extraordinary designers such as Marie-Noëlle Bayard and Brigitte Murat, passionate and fascinating women with impressive skills in hand embroidery, Céline and her Renaissance brand craft unique and exquisite creations using luxurious materials including cotton voile, linen, Egyptian cotton percale, silk, and organdy…
From tablecloths to napkins and bed linen, each piece of linen is custom-made by talented embroiderers, able to adapt to any request for a truly bespoke creation. "Each collection, each order is a challenge that allows us to move forward, to study new techniques," explains Céline.